MEMORY Wall: Lillian VanSteenberghe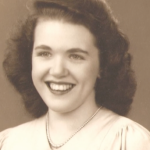 Lillian VanSteenberghe
July 15, 1927 - August 11, 2019
Lilian VanSteenberghe of Somerset, NJ passed away peacefully Sunday morning at the age of 92 at Foothill Acres Nursing Home in Hillsborough, NJ. Born Lilian Sobers in Scranton, Pennsylvania, Lilian married Paul VanSteenberghe in 1947. Eventually they settled in Berkeley Heights, NJ, where they raised their family. They were married for 58 years until Paul passed away in 2005.
Lilian worked as a secretary in Manhattan, then later as a librarian for the Berkeley Heights school system. She loved to host large gatherings at her home, especially by the pool. Lilian was the life of every party. She was generous with her love and affection, and she will be greatly missed by her friends and family.
Lilian is survived by her two daughters Paula Pfriender and Janis VanSteenberghe, her son-in-law Robert Pfriender, her three adoring grandsons Eric, Bryan, and Matthew, and her great-granddaughter Abigail.
Lillian's Guestbook
Donate in Memory of Lillian VanSteenberghe
The Verification Code is imprinted on credit cards to help merchants verify transactions when the actual card is not present, such as Internet purchases or donations. The merchant uses this number as part of the authorization process with the card issuer.
Please use the images below to locate the verification code for your card type.
Visa, Master Card, and Discover: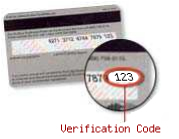 The verification code for Visa, Master Card, and Discover is a 3-digit number printed on the back of your card. It appears after the account number or last 4-digits of your account number, in the signature panel.
American Express: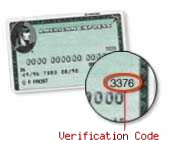 The American Express verification code is a 4-digit number printed on the front of your card. It appears above and to the right of the embossed account number.