People with AD gradually suffer memory loss and a decline in thinking abilities, as well as significant personality changes. These losses in cognitive function are accompanied by changes in the brain, including the build-up of amyloid plaques and tau-containing neurofibrillary tangles, which result in the death of brain cells and the breakdown of the connections between them.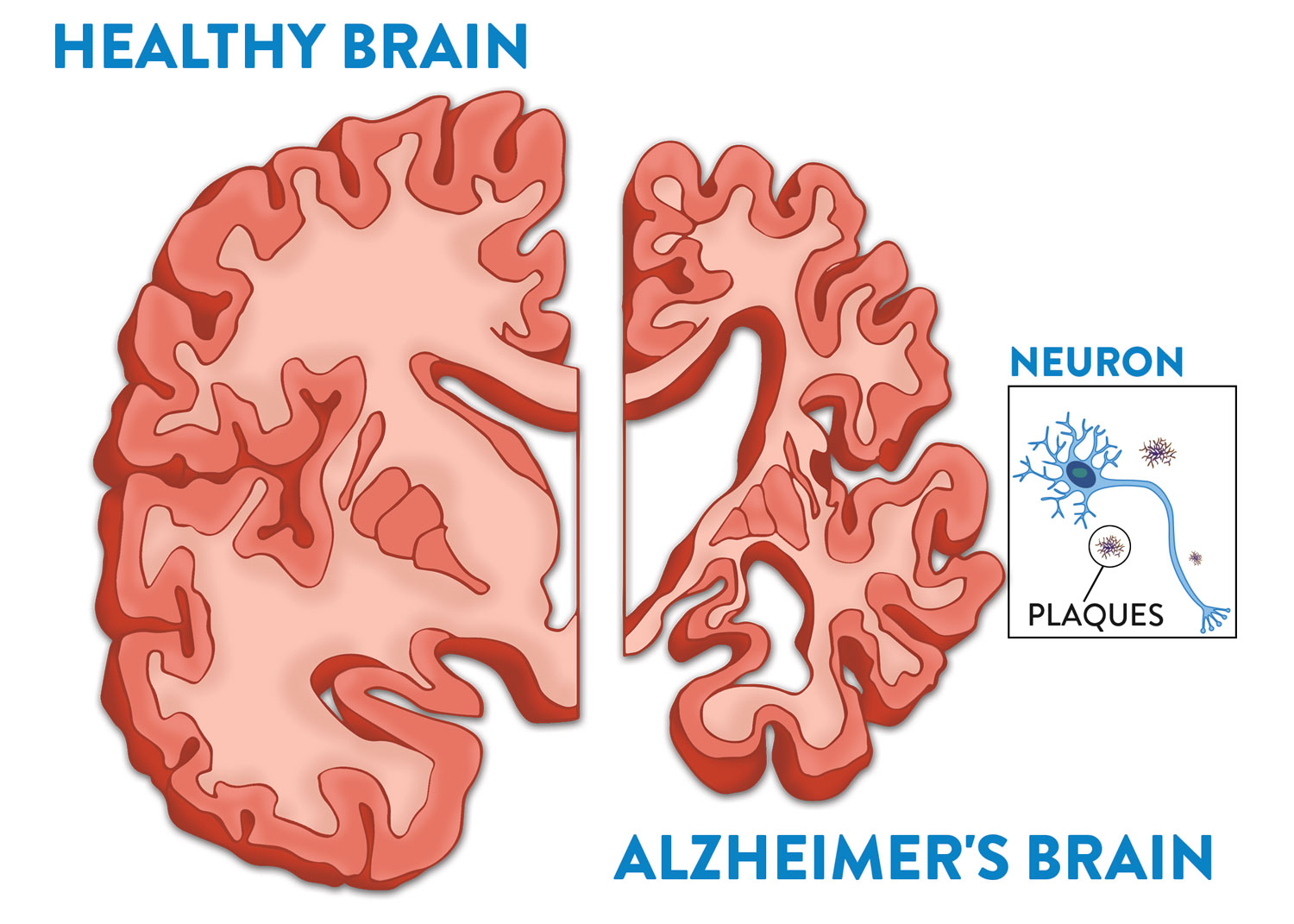 ATROPHY OF THE
CEREBRAL CORTEX
ATROPHY OF THE
HIPPOCAMPUS
CEREBRUM: The main part of the brain filling most of the skull and consisting of two hemispheres. It is crucial for remembering, problem solving, thinking, feeling and movement.
CEREBRAL CORTEX (outer layer of the cerebrum): Interprets sensations, generates thoughts, participates in learning, memory and controls movement.
CEREBELLUM: Controls coordination and balance.
BRAIN STEM: Connects the brain to the spinal cord and controls breathing, digestion, heart rate and more.
CEREBRAL CORTEX: Due to widespread cell death, the cortex shrivels up, and individuals lose their ability to communicate, recognize family and friends and care for themselves.
NERVE CELLS AND TISSUES: Progressive cell and tissue death causes the brain to shrink dramatically and over time affects nearly all of a person's functions.
HIPPOCAMPUS: Severe shrinking impairs the ability to form new memories.
VENTRICLES: Fluid-filled spaces grow larger due to brain cell death and brain shrinkage, leading to the ventricles expansion. The brain cell death causes thinking and reasoning problems, followed by difficulty in walking and loss of bladder control.
TANGLES: Abnormal, twisted clusters of proteins (e.g. Tau) that slowly prevent cells from functioning, which ultimately lead to cell death and can cause serious brain malfunctions.
PLAQUES: Abnormal aggregates of protein fragments (e.g. Abeta) that accumulate between cells, slowly perturbing most brain functions.