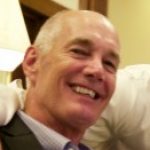 May 01, 1951 - June 15, 2020
Timothy Dwight Curl, 69, of Marietta, GA passed away peacefully with his wife and son by his side on Monday, June 15, 2020. Tim was born in Atlanta, GA on May 1, 1951 to Geneva Poling Curl and Dwight Curl. He graduated from Avondale High School in 1969, where he played football, baseball and wrestled. In 1973, he graduated from West Georgia College with a BBA in Marketing and Management, where he met his beloved wife, Julie. He was a member of Lambda Chi Alpha Fraternity.
Tim retired in 2016 after a successful career in commercial construction management and development. In his spare time, he enjoyed spending time with his family and friends, listening to music, dancing, telling jokes, fishing, playing golf, tackling home improvements, maintaining the yard and relaxing on the beach or at his friend's farm in South Carolina. Tim lived a joyful life made rich by deriving fulfillment and happiness from the simplest of pleasures. His kind, infectious personality and selfless nature always made those around him feel happy, comfortable and accepted. Tim coached little league baseball, was a member of Mt. Bethel United Methodist Church, and served as past President of the Arthur's Vineyard Community Association.
Tim is preceded in death by his father, Dwight Curl and brother, Mike Curl. He is survived by his loving wife of more than 46 years, Julie Wood Curl, his son Matt, daughter-in-law Brittany and grandson Everett of Brookhaven, GA, his mother Geneva (Tootsie) Curl and sister Gwen Curl Housworth of Braselton, GA, nieces Ashley Curl Johnston, Heather Curl Rutherford, Beth Curl Kline and Melissa Housworth Albert, nephews Michael Denton and Neal Housworth, sisters-in-law Donna Curl Spackman and Lynn Wood Griner, brothers-in-law Lew Griner and Rusty Housworth, and many great-nieces and nephews, cousins and dear friends.
A Funeral Service for family will be held at 11:00 am on Friday, June 19, 2020 in the Chapel at Mt. Bethel United Methodist Church. A Memorial Service will be planned for later in the summer for friends and family.
In lieu of flowers, the family kindly asks that you consider a donation in Tim's name to the Fisher Center for Alzheimer's Research Foundation, Mt. Bethel United Methodist Church, or a charity of your choice.
DONATIONS
Fisher Center for Alzheimer's Research Foundation
Mt. Bethel United Methodist Church
Tim's Guestbook