MEMORY Wall: Ronald van Domselaar
Ronald van Domselaar
January 01, 1970 - November 10, 2017
Ronald (Ronnie) van Domselaar was born in Montevideo, Uruguay in 1934. He married Luz, the love of his life in 1953 and moved to New York City in 1965. He traveled the world and enjoyed wonderful vacations with his family. His life revolved around his family and wife.
Ronnie leaves behind four children: Leslie, Sylvia, Monica and Alejandro.
Ronnie was a proud grandfather to nine grandchildren: Leslie, Philip, Stephanie, Danielle, Jessica, Morgan, Ivy, Alyssa, Jonathan and nine great-grandchildren.
Ronnie passed away on November 10, 2017 in his home surrounded by his wife of 64 Years and immediate family after his battle with Alzheimer's. Ronnie's life was altered only in the last few years by this terrible disease. We find comfort in that he lived a long and productive life full of travel adventures, symphonies, family gatherings and many, many wonderful memories. He was loved and will be deeply missed! The family chose to have a private ceremony and his ashes will be scattered per his wishes.
The family asks that any donations be made to the Fisher Center for Alzheimer's Research Foundation in Ronald van Domselaar's name to help end this terrible disease.
https://www.alzinfo.org
Thank you to all the family, friends and loved ones who have supported us during these trying times leading up to our loss. It was a difficult road. Our sincere gratitude to all of you who continue to show love and support now that Ronnie is gone. THANK YOU CAN NEVER BE ENOUGH!!
Ronald (Ronnie)'s Guestbook
1 entry.
We will always miss you Grandpa. You were our teddy bear.
Donate in Memory of Ronald van Domselaar
The Verification Code is imprinted on credit cards to help merchants verify transactions when the actual card is not present, such as Internet purchases or donations. The merchant uses this number as part of the authorization process with the card issuer.
Please use the images below to locate the verification code for your card type.
Visa, Master Card, and Discover: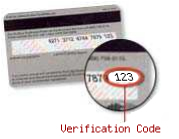 The verification code for Visa, Master Card, and Discover is a 3-digit number printed on the back of your card. It appears after the account number or last 4-digits of your account number, in the signature panel.
American Express: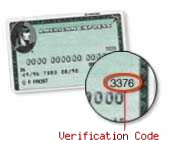 The American Express verification code is a 4-digit number printed on the front of your card. It appears above and to the right of the embossed account number.