MEMORY Wall: Nieves R. Valdes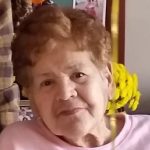 Nieves R. Valdes
July 18, 1925 - May 26, 2018
Nieves R. Valdes, 92 years, of Oak Ridge, New Jersey, passed away at her home on Saturday, May 26, 2018 with her family by her side.
She was born on July 18, 1925 in Havana, Cuba to the late Esperanza and Pedro Rodriguez.
She married Wenceslao Valdes in Cuba before she emigrated in 1966 with her family, settling in Brooklyn, New York.
She spent many years caring for and helping to raise her grandchildren in Iselin, New Jersey and in 2001 they settled in Oak Ridge until her passing.
Nieves will best be remembered for her love of family and home, as well as cooking, shoes, and going out dressed for the occasion.
Nieves was predeceased by her beloved husband Wenceslao Valdes, her loving parents Esperanza and Pedro Rodriguez, and her dear brother Pedro Zenen Rodriguez.
She is survived by her dear son Daniel Valdes and his wife Cindy; her cherished grandchildren Danny Valdes, Jr. and his wife Valerie; and Melissa Henderson and her husband Bill; her adored great grandchildren Alanna, William, Emily, and Daniel; her loving sister Cornelia Valladres, all of Oak Ridge, New Jersey; and her dear niece Hortensia Rodriguez.
The family will receive visitors on Wednesday, May 30, 2018 from 2pm to 4pm and 7pm to 9pm at the Stickle-Soltesz Funeral Home, 187 La Rue Road, Newfoundland, New Jersey 07435 (For GPS use 1 Post Place).
A prayer service will take place on Thursday, May 31, 2018 at 10am at the funeral home.
Immediately following the prayer service Nieves will be interred beside her husband in Oceanview Cemetery in Staten Island, New York.
In lieu of flowers memorial donations may be made in Nieves' name to the The Fisher Center for Alzheimer's Research Foundation, 110 East 42nd Street, 16th Floor, New York City, New York 10017; www.alzinfo.org.
Nieves's Guestbook
Donate in Memory of Nieves R. Valdes
The Verification Code is imprinted on credit cards to help merchants verify transactions when the actual card is not present, such as Internet purchases or donations. The merchant uses this number as part of the authorization process with the card issuer.
Please use the images below to locate the verification code for your card type.
Visa, Master Card, and Discover: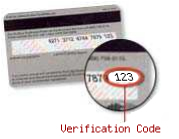 The verification code for Visa, Master Card, and Discover is a 3-digit number printed on the back of your card. It appears after the account number or last 4-digits of your account number, in the signature panel.
American Express: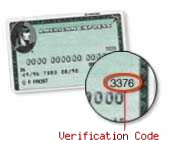 The American Express verification code is a 4-digit number printed on the front of your card. It appears above and to the right of the embossed account number.