MEMORY Wall: Mary Lee Bell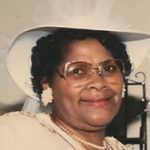 Mary Lee Bell
January 22, 1936 - November 21, 2018
Mrs. Mary Lee Bell's work on earth here is done. She was made an offer she couldn't refuse – a calling to eternal rest on Wednesday, November 21, 2018, at her home in Windsor, North Carolina. This offer came with a huge promise that she would suffer no more and be reunited with family and friends she has not seen in a very long time.
She was the daughter of the late Josephus and Mary Craig Leary and the widow of Leroy Bell, Sr. Mrs. Bell received her formal education from the Bertie County Schools and her spiritual education from Saint Paul Missionary Baptist Church in Windsor, NC where she was a lifelong member. She was very dedicated Trustee in her church.
She retired after working 25 plus years as an employee at Perdue Farms in Lewiston, North Carolina. Mary Lee Bell loved church, family, cooking, and gardening.
Left to cherish her loving memories are her children: Barbara Bell (Walter) and Ethel Pugh (Solomon) both of Windsor, North Carolina; Leroy Bell, Jr. (Carol) of Plymouth, North Carolina; Juanita B. Lee (Carl) and Donna Veale (Jeffrey) all of Lewiston, North Carolina; and Deboria Outlaw (Will) of Winterville, North Carolina; six grandchildren; five great grandchildren; a host of other relatives and friends.
I hope you never lose your sense of wonder
You get your fill to eat but always keep that hunger
May you never take one single breath for granted
God forbid love ever leave you empty handed
I hope you still feel small when you stand beside the ocean
Whenever one door closes I hope one more opens
Promise me that you'll give faith a fighting chance
And when you get the choice to sit it out or dance.
I hope you dance… I hope you dance…
– Lee Ann Womack
Mary's Guestbook
Donate in Memory of Mary Lee Bell
The Verification Code is imprinted on credit cards to help merchants verify transactions when the actual card is not present, such as Internet purchases or donations. The merchant uses this number as part of the authorization process with the card issuer.
Please use the images below to locate the verification code for your card type.
Visa, Master Card, and Discover: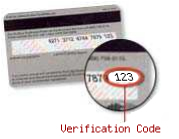 The verification code for Visa, Master Card, and Discover is a 3-digit number printed on the back of your card. It appears after the account number or last 4-digits of your account number, in the signature panel.
American Express: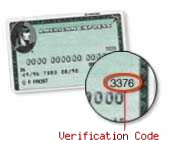 The American Express verification code is a 4-digit number printed on the front of your card. It appears above and to the right of the embossed account number.