MEMORY Wall: Janet Gaydos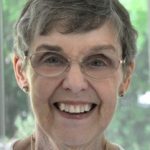 Janet Gaydos
November 16, 1937 - March 22, 2019
Janet Marie Gaydos, 81, passed away March 22 surrounded by her family. A celebration of her life will be held on Thursday, April 4, 5-8 pm (family memories shared at 7:00 pm) at Murphy's Funeral Home, 1102 West Broad St., Falls Church, VA. A funeral Mass will be held at 11:00 am on Friday, April 5 at St. Ambrose Catholic Church, 3901 Woodburn Rd., Annandale, VA, followed by a private interment at Fairfax Memorial Park at 12:30 pm.
Janet was born on November 16, 1937 in Detroit, Michigan to Carter and Josephine Shields. She was the youngest of three girls. In high school Jan liked reading, math and science, and went on to attend Georgetown University School of Nursing in Washington, DC. Upon graduation, she was awarded the Father McNally Memorial Medal for the student with the most outstanding record in comprehensive nursing.
Her senior year she met Lawrence Gaydos, a young medical intern. She was moved by his kind and compassionate manner with his patients, his good heart, as well as his intelligence and integrity. He was taken by her sweet gentle nature, her beautiful blue eyes and her wonderful smile. They fell in love and were married in Detroit, Michigan on September 19, 1959. Afterwards, they returned to the DC metropolitan area and eventually settled in Annandale, VA, where they remained for nearly 50 years, forming lifelong friendships with the neighbors and their families.
Jan was a wonderful mother and homemaker. She filled her home with music, often playing the piano and singing along. She loved baking cookies, pies and cakes, and covered the dining room table with tins full of these goodies during the holidays. She was a talented seamstress, did needlepoint, knitted sweaters, blankets and Christmas stockings for her children and grandchildren. As a member of the Stitchers' Club, she made items for soldiers fighting in the Middle East, embroidered stoles for the priests for Easter services and made christening gowns for young babies who never made it home.
Jan and Larry have been members of St Ambrose Catholic Church for over 50 years. Both were Eucharistic ministers, and Jan was a member of the Chaplaincy Program at INOVA Fairfax Hospital. Her desire to help others, led her to support the CCD program, volunteer for Meals on Wheels, and serve at the local food bank. She was also an active member of the Arlington Medical Society Alliance, where she held various offices including that of president.
Jan was especially fond of the beach and the family enjoyed many visits to their vacation home in Duck, North Carolina. The entire family vacationed together in the summer of 2017, the last time Jan was able to make the trip. She left the family with many treasured memories.
Jan was an amazing caregiver to the whole family, especially to Larry's mother, Olga. She was paid back in full by the tender loving care she received from her husband, most notably this past year, as she struggled with the challenges of Alzheimer's disease.
Larry has often said that Jan was the best thing that ever happened to him, and their children can truly say that their loving partnership was the best thing that ever happened to them. They feel blessed to have grown up surrounded by their parents' love.
Janet was predeceased by her sister, Joyce Doyle, and is survived by her sister Nancy Cavanaugh. She will be greatly missed by Lawrence, her beloved husband of nearly sixty years, her five children and their spouses, Laura Freix (Mike), Susan Izett, Peter (Jill), Mike (Cathy) Julie Hayes (Rob) and her 14 grandchildren, Matthew (Lauren), Andrew, Katie, Sara; Naomi, Ben; Jimmy, David, Brian, Jeff; Kelsey, Tommy; Alyssa and Leah, and by everyone who's lives she touched with her beautiful smile and loving nature.
In lieu of flowers, donations may be made in Jan's memory to the Fisher Center for Alzheimer's Research Foundation.
Online condolences may be made at www.murphyfuneralhomes.com.
Janet's Guestbook
2 entries.
Fond memories. Beautiful person.
Blessings.
Dear Larry and Family
So sorry to hear of Jan's passing. She was truly one of the kindest, sweetest people we have had the pleasure to know. Our sympathy at your loss.
Love and prayers,
Larry and Marilyn
Donate in Memory of Janet Gaydos
The Verification Code is imprinted on credit cards to help merchants verify transactions when the actual card is not present, such as Internet purchases or donations. The merchant uses this number as part of the authorization process with the card issuer.
Please use the images below to locate the verification code for your card type.
Visa, Master Card, and Discover: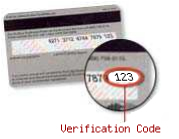 The verification code for Visa, Master Card, and Discover is a 3-digit number printed on the back of your card. It appears after the account number or last 4-digits of your account number, in the signature panel.
American Express: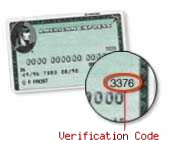 The American Express verification code is a 4-digit number printed on the front of your card. It appears above and to the right of the embossed account number.