MEMORY Wall: Frances Ann (O'Connor) Zuppo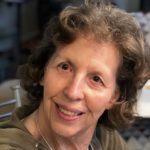 Frances Ann (O'Connor) Zuppo
December 31, 1943 - January 01, 2020
Loving wife of Joe and mother of Angela, Michelle, Joseph and Melinda. Family believes she had Alzheimer's since 2001. Diagnosed by Mayo Clinic Rochester in 2011. She spent close to four years in nursing homes. Less than one year in SD then three years in MD. Her family celebrated her 76th birthday the day before her passing. Our children and grandchildren had a wonderful time with her. She was so witty and full of love, but ready to go to our Lord. A couple weeks prior I asked her what she wanted to do that day. Her immediate reply "Die." I just hugged her! She was ready!
Frances Ann's Guestbook
6 entries.
Yesterday was Memorial Day. We thank those that gave their all for serving us while in the military! Well, this lady gave her all to her four children and husband was profoundly wounded by Alzheimer's and fought that for what the family thinks is 19 years. A silent debilitating disease that takes everything. We all miss her! Thank you Fran for your service to us for for 53 years! We love you.
Frances has been my friend since our kindergarten days, through grade school, and high school, and beyond. A wonderful lady and friend!
From the first day I met Miss Fran, Music was a wonderful pastime for her. Even to the end her happiness was family music and a cookie! I will never forget the Wedding Vow Renewal events that the Zuppos' attended and witnessing how special that time was for them. It was my honor to serve the Zuppo family while Miss Fran was here and I thank the family for helping Miss Fran to find a semblance of home in this community. During this journey to end Alzheimer's, I will always advocate for those who can't and will always fondly remember Miss Fran and her family as my own.
aunt Fran was a great person and family member of mine..i miss her everyday
The world can rob us of our memories, our thoughts, our lives. God gives them all back to us. Be well and be confident of God's grace.
Well yesterday was our 53rd anniversary! Still love you except now I miss you. Finally got this somewhat corrected. Was always a little late doing things. LOL
Donate in Memory of Frances Ann (O'Connor) Zuppo
The Verification Code is imprinted on credit cards to help merchants verify transactions when the actual card is not present, such as Internet purchases or donations. The merchant uses this number as part of the authorization process with the card issuer.
Please use the images below to locate the verification code for your card type.
Visa, Master Card, and Discover: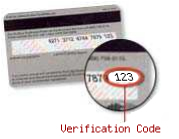 The verification code for Visa, Master Card, and Discover is a 3-digit number printed on the back of your card. It appears after the account number or last 4-digits of your account number, in the signature panel.
American Express: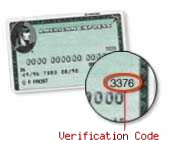 The American Express verification code is a 4-digit number printed on the front of your card. It appears above and to the right of the embossed account number.