MEMORY Wall: Delora Cecelia Carlson Morris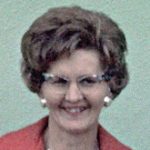 Delora Cecelia Carlson Morris
January 27, 1973 - May 09, 2005
Let us Rejoice and Be Glad
Selfishly, I want her to still be here. I think we all do.  We want her back the way we remember her best. Baking bread, taking walks, teaching us to embroider, reading to us… always so attentive and interested in what we were saying. I long for that and I want to curse the Alzheimer's and the harshness and unfairness of life.  I have shed many tears over this, and always find myself sobbing "why."  Why what though? I do not know what I am really asking.  Why did she have to get this disease? Why her, a woman who brought love and light to everything and everyone she came into contact with? Why our family, why us?  These are all reasonable questions I suppose.  But I don't think she would have wanted us to ask them.  She saw the good in everyone and in everything.  She found the blessing where no one else could find it.  And so, I am going to try and honor her by doing so in my own way.  I know that she would not want the last years of her life to be lived in vain, and they were not. Right up until the end, her spirit of love, warmth and tenderness that she had her whole life shown through just as bright as ever. 
When I would lie next to her in bed she would tuck the covers up close to my neck, when she held my hand, she would comment on how it was cold, when I leaned over to kiss her goodbye, she would reach up to fix the collar of my shirt… she was always taking care of everyone. She was the glue of the world, and she continues to be, even as she has passed on to a better place.  She has left behind her a legend that will be carried on by everyone that was touched by her love and her care taking. 
My mother would always say she was sorry that we had to watch her deteriorate, that we had to experience the rawness of life.  Sorry is the last thing she should be.  Life is inescapably painful. If you choose to love, you choose to suffer.  But it is well worth it.  I must view the last years of my grandmother's life as a gift in disguise.  She taught me the value of life to a degree that I cannot explain.  Lying next to her in bed, whether she was sleeping or awake, always transformed my soul in some inexplicable way.  I felt a connection with my grandmother that transcended any other human interaction.  Somehow, although she exhibited no physical signs of comprehension, I knew that we had some sort of understanding.  Sometimes when just the two of us were alone in the house, and I lay next to her, I felt like we had some sort of secret just between the two of us, that she was sharing something sacred with me.  I felt that by being connected to her, I was being connected to some transcendent place.  She was serving as a bridge, a link, to some other world.  And now she is in that other world completely, and despite our tears, we know that is where she belongs. 
When my grandmother was still living, in the last stages of the horrendous disease, I could not have found good in it.  But, like I have said, she would have wanted us to find good. And now I have found the good.  I have seen that even in her deterioration, she brought out the very best in people.  Within the last few weeks, I have felt so helplessly far away being on the other side of the country.  I have felt a certain amount of guilt for not being able to be there to help in any way, I have felt desperate desire to see my grandmother before she passed on, and I have been, overall, scared.  Yet, watching the last few weeks take their course from afar, I can truly say that Grandma could not have been happier.  I say this because during the recent events, her family, that she created, loved, and cared for came together with more love and connection than ever before.   I truly believe that she sensed the love, connection and openness between everyone around her, and only then could she pass on in peace.  She knew that my sisters and I had formed an incredible relationship with my grandfather within these last few years, and I know she is infinitely happy about that.  She knew that her children had become closer, and had learned to understand and love one another in completely new ways.  She also knew that her grand daughter's love their mother with the same intensity that her daughter loved her. The bonds of these relationships are lasting beyond my grandmother's death, and she only allowed herself to leave us because she knew that she had indeed left behind a lasting legacy.  Therefore, we must not weep or mourn her loss, but rejoice in her eternally.
Delora's Guestbook
Donate in Memory of Delora Cecelia Carlson Morris
The Verification Code is imprinted on credit cards to help merchants verify transactions when the actual card is not present, such as Internet purchases or donations. The merchant uses this number as part of the authorization process with the card issuer.
Please use the images below to locate the verification code for your card type.
Visa, Master Card, and Discover: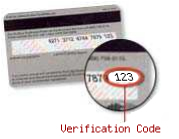 The verification code for Visa, Master Card, and Discover is a 3-digit number printed on the back of your card. It appears after the account number or last 4-digits of your account number, in the signature panel.
American Express: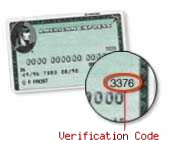 The American Express verification code is a 4-digit number printed on the front of your card. It appears above and to the right of the embossed account number.