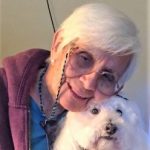 November 04, 1928 - May 08, 2020
It is with heavy hearts that we announce the passing of our mother, Charlotte Martinez, on May 8, 2020 of COVID-19. She was born on November 4, 1928 in Clayton, New Mexico to Carlos and Eduard Portillos. The family moved to Pueblo, Colorado, where they raised their family of 9 children. After completing school, she met and married the love of her life, Ruben Martinez. They moved to Denver and had three children, Karen, Ruben Tim, and Carl.
Charlotte worked at the City and County Building as a legal clerk for over 30 years. She was very proud of her job and made many friends during her time there. Family was important to Ruben and Charlotte. There was always a family get together. If you had the pleasure of being a guest in their home, Charlotte always immediately asked "What can I get for you?" She always had something good to eat and drink for her guests. She loved being with her siblings and their families. She and her two sisters, Helen and Phyllis were affectionately called 'the Golden Girls". Her laugh was infectious and her smile lit up the room. Ruben and Charlotte also enjoyed camping, fishing, and traveling. She attended Mass every Sunday. After losing Ruben, Charlotte adopted her beloved dog, P.J.
Charlotte is survived by daughter, Karen Jacobsen, son Ruben Tim and Catherine Martinez, and son Carl and Heather Martinez. Three grandchildren, DeAnna Jacobsen, Jasen Jacobsen, and Kyle Martinez. Three brothers, Richard, Bobby, and Eddie, as well as numerous nieces and nephews.
Preceded in death by her husband Ruben, parents Carlos and Eduarda, siblings Ernie Portillos, Helen Trujillo, Phyllis Gonzales, Jim Portillos, and Charles Jr Portillos.
Charlotte's Guestbook