MEMORY Wall: Catherine Sickles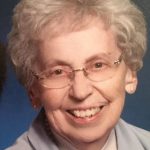 Catherine Sickles
October 20, 1927 - June 20, 2018
Catherine Cockerill Sickles, 90, went to be with the Lord on Wednesday, June 20, 2018 after a decade long year battle with Alzheimer's. She was born on a farm in Ashburn, VA to Welby and Nellie (Lee) Cockerill. She lived in VA her whole life except for the 4 years she attended Indiana Wesleyan University where she earned degrees in elementary education and music. She met Merrill Sickles, Jr. while both were singing in the Billy Graham crusade choir and were married on July 18, 1952. She was a wonderful mother to her 2 children, Debbie and Mark. Catherine taught elementary school for over 40 years in both public and private schools. Her favorite grade was the 4th because that's when Virginia history was taught! She was a woman for great faith and served the Lord faithfully in her church as volunteer music director, Sunday School teacher, leader in the children's scouting program, trustee and administrative assistant to the pastor. Catherine enjoyed music, playing games – scrabble was her favorite, doing puzzles, hot fudge sundaes, loving on her pet dogs (Pookie, Kobi, Gretchen and Sam – not all at the same time!), traveling, watching westerns on TV, reading and spending time with her family. She was a kind and generous woman as well as a devoted daughter, wife, mother, grandmother, mother-in-law and sibling. She was a blessing to many, loved dearly and will be missed! We are comforted knowing that she in now rejoicing with her heavenly Father and that her memories, stolen by this cruel disease, have returned to her. She now remembers all the people she loved and who loved her!
Catherine is preceded in death by her husband Merrill, both parents, her brother Lee Cockerill and her sister Marie Wheeler. She leaves behind her children – Debbie McKamey and Mark Sickles, her grandchildren Reese Brackett, III and Laura Lee Brackett and her brother Lewis Cockerill.
Catherine's Guestbook
1 entry.
Kitty Sickles was a delightful lady and I'm so blessed to have known her. God bless her dear family with warm memories of their beautiful Mom and Grandmom.
Donate in Memory of Catherine Sickles
The Verification Code is imprinted on credit cards to help merchants verify transactions when the actual card is not present, such as Internet purchases or donations. The merchant uses this number as part of the authorization process with the card issuer.
Please use the images below to locate the verification code for your card type.
Visa, Master Card, and Discover: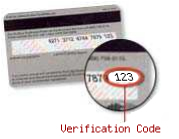 The verification code for Visa, Master Card, and Discover is a 3-digit number printed on the back of your card. It appears after the account number or last 4-digits of your account number, in the signature panel.
American Express: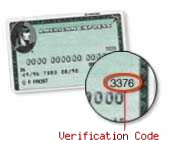 The American Express verification code is a 4-digit number printed on the front of your card. It appears above and to the right of the embossed account number.