MEMORY Wall: Annelies Herzl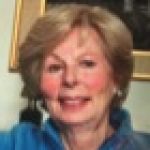 Annelies Herzl
November 30, 1924 - December 22, 2019
Annelies Herzl passed away peacefully on 12/22/19 after living with Alzheimer's for over 10 years. Annelies was born in Neustadt an der Sale, Germany, on Nov 30, 1924 to Irma and Selig Lustig. Her loving husband, Henry, predeceased Annelies in 1991. She is survived by her children Roy Herzl of Mamaroneck, NY (wife Allison) and Vicki Herzl Watkins of Alplaus, NY (husband Gray) and her five grandchildren; Adam Herzl, Michelle Herzl, Lindsay Herzl Aronow (husband Bryan), Steve Watkins and Jenny Watkins.
Annelies was a Holocaust survivor. Annelies and her family fled Germany in 1933 due to the rising anti-Semitism under Hitler. They lived peacefully in Holland until Hitler's invasion in 1940. She survived the war due to the kindness of strangers, 14 families who were members of the Dutch Underground, who took her into their homes and sheltered her from the Nazis in Holland. Sadly, her mother, father and brother, Bernd, did not survive. Annelies came to New York City after the war. She met Henry through family friends in 1946 and they were married a year later. They moved to Rye, NY in 1952.
Annelies and Henry were devoted to each other and to their family. They were both so grateful to be able to start a new life in America. Annelies worked as a real estate agent in Rye during the 1960s and later earned a degree as a paraprofessional social worker from The New School in NYC. She worked at the New Rochelle Guidance Center as a mental health counselor for over 30 years. She also organized and facilitated support groups for Holocaust Survivors and Second Generation Survivors at Westchester Jewish Community Services.
Annelies had an incredible intuition about people and was able to offer guidance in such a kind and supportive way. Despite her difficult youth she remained an optimist through and through. Annelies will always be remembered for her seemingly endless capacity to love as well as her compassion, generosity, kindness and gentle strength.
The family would like to thank the staff at the Eddy Village Green in Cohoes, NY and at the Osborn in Rye, NY for the care they provided Annelies over the past 10 years. Annelies was interred at the Ferncliff Cemetery in Hartsdale, NY. A private celebration of her life will be held at a later date. Donations in Annelies' memory can be made to Fisher Center for Alzheimer's Research Foundation, 110 East 42nd Street, 16th Floor New York, NY 10017 or to the Westchester Jewish Community Services (Holocaust Survivor Groups), 845 North Broadway, White Plains NY 10603
Annelies's Guestbook
Donate in Memory of Annelies Herzl
The Verification Code is imprinted on credit cards to help merchants verify transactions when the actual card is not present, such as Internet purchases or donations. The merchant uses this number as part of the authorization process with the card issuer.
Please use the images below to locate the verification code for your card type.
Visa, Master Card, and Discover: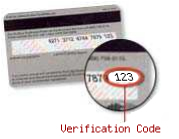 The verification code for Visa, Master Card, and Discover is a 3-digit number printed on the back of your card. It appears after the account number or last 4-digits of your account number, in the signature panel.
American Express: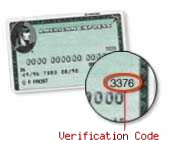 The American Express verification code is a 4-digit number printed on the front of your card. It appears above and to the right of the embossed account number.