MEMORY Wall: Sue Ogimachi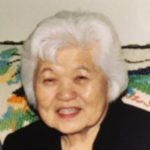 Sue Ogimachi
May 15, 1921 - December 20, 2019
Sue (Sumiko) Minakami was born in Stockton, California on May 15, 1921. She was the youngest of 3 daughters born to Zenkichi, a traveling medical salesman, and Miwa, a schoolteacher.
After her internment in the Jerome Camp during World War II, she met her husband Hank Ogimachi and they were wed in February of 1948. Sue and Hank were blessed with 4 children and they raised their family in Los Angeles, California.
Sue was a woman of high energy and many interests and talents. She was an avid loving mother, spoke five languages, sang with several groups both in and out of church, played the piano, square danced weekly with Hank, sewed, crocheted, and involved herself with as many volunteer and social activities as she possibly could. Her love of people gained her popularity that never wavered throughout all stages of her life, and she was well known for being a good listener who could make even the most reticent personality open and warm.
In 2009 after a long blessed life filled with love and family, Hank and Sue began to show signs of declining health and Alzheimers and retired from their home to the Nikkei Senior Gardens.
In the early morning of December 20, 2019, Sue passed away peacefully at Nikkei Gardens after a beautiful day surrounded by loved ones. She is preceded in death by her husband Hank, and her sister Taye. She is survived by her sister Yuri, her 4 children, Gary (wife Linda), Wayne (wife Tina), Nikki, and Mari (husband Glenn), her grandchildren Breanna, Rachel, Rebekah, Kellie and Ryan, her Great Grandchildren Jourdan, Hunter, and Lydia, and numerous extended family members. She was a bright light to all who knew her, and she will be greatly missed.
Sue's Guestbook
2 entries.
My condolences to the family. My Aunt Sue was a extraordinary person and I was lucky to know her. Rest in peace Aunt Sue and Uncle Hank.
My sincere condolences to the family and all who loved Sue. I know she was loved dearly by her children, grandchildren and great grandchildren, which many would say is the greatest measure of a life well lived.
Donate in Memory of Sue Ogimachi
The Verification Code is imprinted on credit cards to help merchants verify transactions when the actual card is not present, such as Internet purchases or donations. The merchant uses this number as part of the authorization process with the card issuer.
Please use the images below to locate the verification code for your card type.
Visa, Master Card, and Discover: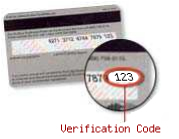 The verification code for Visa, Master Card, and Discover is a 3-digit number printed on the back of your card. It appears after the account number or last 4-digits of your account number, in the signature panel.
American Express: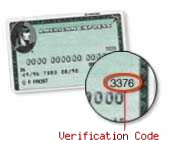 The American Express verification code is a 4-digit number printed on the front of your card. It appears above and to the right of the embossed account number.