MEMORY Wall: Shirley McWillie Feeney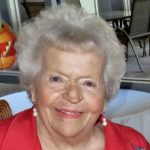 Shirley McWillie Feeney
March 20, 1932 - July 29, 2018
Shirley Ann McWillie Feeney was the beloved wife, mother, grandmother and great grandmother who had a zest for life and an infectious positive energy wherever she went. Shirley had a heart-warming, God-loving passion for family gatherings, making everyone feel special. She made every visit home incredibly fun and memorable.
Not only did she volunteer in service to others, she many times organized and led the events, including Girl and Boy Scout day camps, church fundraisers, and school activities and enrichment.
She and Dick shared a love of the outdoors, beginning their marriage with a treasured backpacking trip in the wilderness of Idaho. In the middle years, boating became an enjoyable family passion. They retired to a dream home in the mountains of Tehachapi, California. After ten years, they moved to Texas to help with young grandchildren.
Shirley was born and raised in San Diego, California, where she and Dick first met in second grade. They married in 1952 in La Mesa, and she graduated in 1953 with a degree in primary education from San Diego State.
As a military wife, she and her devoted husband Dick moved dozens of times and quickly became welcomed members of communities and churches in over 22 years of service.
Based on a profound and enduring dedication to God, family and community, Shirley brought the best of herself to her daily life and inspired many of us to do the same.
Shirley is survived by her husband of 66 years, Richard "Dick" Feeney, her three children, Cindy (Brian), Mark (Wendy) and Matthew (Vicki), and many grandchildren and great grandchildren. She is deeply missed by her family and a lifetime of friends, now living here in Texas and across the nation.
Shirley's Guestbook
5 entries.
Our deepest condolences to you and the entire family.

Carol and Les, Paula and Sarah
Our thoughts and prayers to all the family
My condolences to you and your family.
In honor of my Mom and all the great times we had together.
Donate in Memory of Shirley McWillie Feeney
The Verification Code is imprinted on credit cards to help merchants verify transactions when the actual card is not present, such as Internet purchases or donations. The merchant uses this number as part of the authorization process with the card issuer.
Please use the images below to locate the verification code for your card type.
Visa, Master Card, and Discover: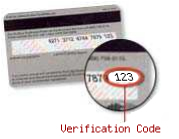 The verification code for Visa, Master Card, and Discover is a 3-digit number printed on the back of your card. It appears after the account number or last 4-digits of your account number, in the signature panel.
American Express: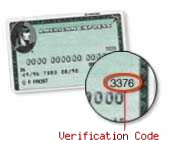 The American Express verification code is a 4-digit number printed on the front of your card. It appears above and to the right of the embossed account number.