MEMORY Wall: Rita Calabrese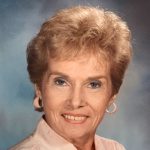 Rita Calabrese
March 24, 1930 - May 05, 2019
Rita Mary Calabrese (maiden name Howlett) passed in May, 2019 from Alzheimer's disease. Rita was born in March, 1930 and was 89 years old when she passed. She is survived by her three children: Son Michael (Barbara Pape) Calabrese, Patricia (Brian Blome) Calabrese, and James (Bradley Bowden) Calabrese. She is also survived by her three grandchildren Anthony, Carravita, and Evan.
Rita grew up on the west side of Chicago in an Irish neighborhood. She graduated Loyola HS in 1948 and worked as a secretary for 7 years. She met the love of her life, Victor Calabrese, at a Sunday tea dance in 1953. They were married in 1956 and their eldest son (Michael) was born in 1957.
While raising 3 children, Rita went to college at night and earned a B.A. in Education from Northeastern University in 1971. She taught in the Catholic Archdiocese of Chicago school system for over 25 years before retiring. She was always very proud of being a teacher, her way of giving back to the community and work with children.
Unfortunately, in 1981, Victor passed from heart disease. They were married 25 years and Rita survived an additional 37 years after his passing.
After Vic passed, Rita learned to enjoy life with family and friends as a widow. She enjoyed ballroom dancing, socializing with friends, arts & crafts, family gatherings, and 'hanging' with her kids. She took several trips to Europe and vacations to Florida with her beloved friend Frank Morrison.
In 2006, Rita was diagnosed with ALZ. She was fortunate enough to live at Belmont Village, an assisted living community that specializes in ALZ, for the past 8 years as her health deteriorated. They took wonderful care of her until her passing.
Thanks to Jim, the family has wonderful videos and memories of Rita they will cherish forever. Rita loved her kids unconditionally and protected and encouraged them. She was a pragmatic, fun-loving, spiritual woman who her children greatly admired. She knew the importance of family, love, & laughter. We will miss you Rita…. THANK YOU does not begin to express our gratitude. We were truly blessed to have you as our mother. Rest in Peace with Vic….we love you both!
Rita's Guestbook
Donate in Memory of Rita Calabrese
The Verification Code is imprinted on credit cards to help merchants verify transactions when the actual card is not present, such as Internet purchases or donations. The merchant uses this number as part of the authorization process with the card issuer.
Please use the images below to locate the verification code for your card type.
Visa, Master Card, and Discover: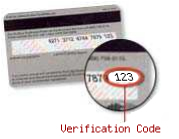 The verification code for Visa, Master Card, and Discover is a 3-digit number printed on the back of your card. It appears after the account number or last 4-digits of your account number, in the signature panel.
American Express: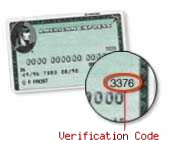 The American Express verification code is a 4-digit number printed on the front of your card. It appears above and to the right of the embossed account number.