MEMORY Wall: Patty Benfield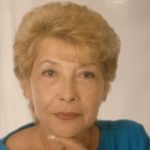 Patty Benfield
May 05, 1941 - January 29, 2020
Patricia Elaine Benfield, age 78, of Marco Island, Florida went to be with the Lord on January 29, 2020 in Bel Air, Maryland. Patty was born May 5, 1941 in Warfordsburg, Pennsylvania to the late Charles Nelson Lanehart and remained a proud Daddy's Girl all her life. After high school, Patty moved to Baltimore, MD and soon after, met and married the love of her life, Charles Lee Benfield. Charlie and Patty were married over 50 years. Together they founded and grew a successful electrical contracting business, Benfield Electric.
Patty enjoyed reading True Crime, crocheting and was renowned for her cooking and baking skills. She would study a recipe and "tweak it until it was just right". She loved all animals and volunteered for the Humane Society for many years.
Her favorite title, beside wife, was that of Mom to her two sons and Grammy to her 3 grandchildren. In addition to her husband, Patty is survived by her sons, David Nelson (Caroline Mary) Benfield & Gregory Marvin (Samantha Jill) Benfield; and grandchildren Sydney Nicole Benfield, Ashton Isabella Benfield, and Kyle Lee Benfield. She will also be missed by her dog, Sarge, and many nieces and nephews all of whom she adored. In addition to her father, she was preceded in death by her siblings: Emory, Alton, Harry, Charles, Edna and Goldie.
Patty's Guestbook
Donate in Memory of Patty Benfield
The Verification Code is imprinted on credit cards to help merchants verify transactions when the actual card is not present, such as Internet purchases or donations. The merchant uses this number as part of the authorization process with the card issuer.
Please use the images below to locate the verification code for your card type.
Visa, Master Card, and Discover: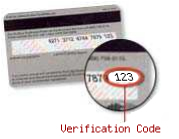 The verification code for Visa, Master Card, and Discover is a 3-digit number printed on the back of your card. It appears after the account number or last 4-digits of your account number, in the signature panel.
American Express: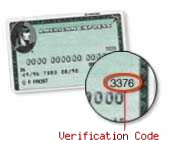 The American Express verification code is a 4-digit number printed on the front of your card. It appears above and to the right of the embossed account number.