MEMORY Wall: Nancy Cannon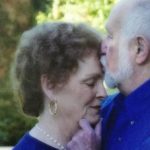 Nancy Cannon
September 05, 1934 - November 01, 2012
Nancy Lou Cannon was born in Albuquerque, NM on Wednesday, September 5, 1934 and passed away in Orange, CA on November 1, 2012. She was a cherished wife, mother, grandmother and friend.
Her favorite tradition was her annual cookie decorating party with her grandchildren. She also had a great love of swans. She and her husband, Dick, spent many afternoons on the wraparound porch of their home In Washington watching the beautiful swans on the lake. She absolutely adored her two pugs, Winston and Maggie. She had a great love of reading and shared this passion with her four children and grandchildren and they have shared that love with her great grandchildren.
When her cherished husband of 50 years suffered from dementia, she insisted on caring for him herself 24/7. It took a huge toll on her, but she wouldn't have it any other way. Sadly, shortly after he passed, it became evident that she was suffering from the onset of Alzheimer's. After 7 painful years, it stole her from us.
She was a blessing to many, loved dearly and is greatly missed. It is our wish that she not be forgotten and we are grateful to the Fisher Center for their valiant effort's to conquer this dreaded disease.
Nancy's Guestbook
Donate in Memory of Nancy Cannon
The Verification Code is imprinted on credit cards to help merchants verify transactions when the actual card is not present, such as Internet purchases or donations. The merchant uses this number as part of the authorization process with the card issuer.
Please use the images below to locate the verification code for your card type.
Visa, Master Card, and Discover: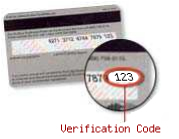 The verification code for Visa, Master Card, and Discover is a 3-digit number printed on the back of your card. It appears after the account number or last 4-digits of your account number, in the signature panel.
American Express: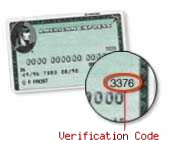 The American Express verification code is a 4-digit number printed on the front of your card. It appears above and to the right of the embossed account number.