MEMORY Wall: Mercedes Florez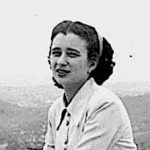 Mercedes Florez
August 25, 1928 - May 12, 2019
María Mercedes Flórez Prida, a devoted wife, mother, grandmother – and a woman many people counted on for strong, grounded guidance and wisdom – died today peacefully and surrounded by love. She was 90.
Born August 25, 1928 in Sancti-Spiritus, Cuba to Manuel Flórez and Nieves Prida, Mercedes was one of seven Flórez children – including Manuel, Migdalia, Marietta, Silvio, Mario, and María de los Angeles.
She married Carlos Manuel Martínez Meneses in 1950 and they had two children, María Martínez and Carlos Martínez, both of whom survive their mother.
In 1962, after the death of Carlos Manuel Martínez Meneses a year earlier, Mercedes emigrated from Cuba to the United States (Puerto Rico) with her children and extended family members. She later met and married her beloved husband, Francisco González de la Red, who also survives her, as does her grandchild, Cecilia Marie Votta.
Other survivors include her siblings Marietta, Silvio, María de los Angeles and numerous nieces and nephews.
Mercedes was a devoted Catholic, choir director, accountant, and storyteller. She was also a magnet for many people drawn to her tender heart, gentle spirit, loving humor, and impish grin.
Said her daughter María: "It's impossible to fully measure the impact of such a wonderful mother – as a fearsome caregiver, excellent role model, respected community member, loving wife, and kind-hearted soul. Our many memories are lasting blessings."
Services for Mercedes will be announced at a later date.
Mercedes's Guestbook
12 entries.
Such a heartwarming & inspiring tribute. Maria, sincere condolences for your loss and wishing you & the family peace, strength and comfort through this difficult time.
Maria, may God give you and your family the strength through this difficult time. Her legacy lives with you. My thoughts and prayers for your family.
Beautiful tribute for an amazing woman, mom, sister and wife. Wishing you and your family peace and comfort during this time.
Nuestros más sinceros pésame para todos ustedes siempre recordaremos a Tía Mercedes con una sonrisa en su cara
Un abrazo
Words are never quite enough for moments like this. From your extended Cisco family, so sorry for your loss.
The memories of our loved ones are reflected in the smile lines on our faces, and the echo of their love is felt with every heartbeat.
My heart and prayers are with you and your family. The loss of one's mother is powerful and lifechanging. I can only share what I know when my mother passed much too early in her life; she will live through you and your children and your children's children. With heartfelt condolences.
Maria, your mother sounds like a wonderful person. I lost my dad 2 summers ago and there really are no words....
I'm sorry for your family's loss.
Kara
Such a beautiful tribute to a lovely woman. I feel fortunate to know her through the legacy she leaves behind – one which she clearly spent a lifetime crafting with intention, and with her actions. Her spirit and stories are deeply rooted and will live on.
I'm so sorry for your loss. It is so hard.
Donate in Memory of Mercedes Florez
The Verification Code is imprinted on credit cards to help merchants verify transactions when the actual card is not present, such as Internet purchases or donations. The merchant uses this number as part of the authorization process with the card issuer.
Please use the images below to locate the verification code for your card type.
Visa, Master Card, and Discover: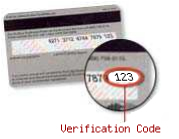 The verification code for Visa, Master Card, and Discover is a 3-digit number printed on the back of your card. It appears after the account number or last 4-digits of your account number, in the signature panel.
American Express: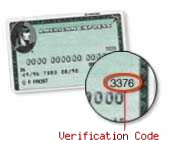 The American Express verification code is a 4-digit number printed on the front of your card. It appears above and to the right of the embossed account number.