MEMORY Wall: Marlene Lois Koch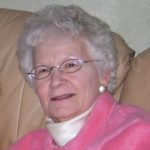 Marlene Lois Koch
November 02, 1934 - October 11, 2017
Marlene Lois Peterson was born in Shakopee, Minnesota, the daughter of Lyle and Loretta (Luedloff) Peterson and a sister to 3 brothers. She graduated from Shakopee High School in 1951. On September 7, 1957, Marlene exchanged marriage vows with Robert Koch and they made their home in Shakopee where they raised four children. She was a woman of strong character and had an inner beauty that can only come from Christ.
Family mattered the most to her regardless of how far away we were. This was how she lived out her life. Mom and dad were persistent in encouraging each child to attain a college degree. Three of four children achieved master degrees. Our parent's appreciation of music was the impetus behind providing music instruction on multiple instruments for their children. Once all the kids were in school, Marleneapplied her administrative skills as asecretary for First Presbyterian Church in Shakopee. A few years later, sheaccepted a position as the Administrative Secretary to the Scott County Sheriff, a post she held for 24years, retiring in 1998.
Mom spoke softly about her faith and preferred to live her life quietly under the "Unseen Guest"Jesus. She witnessed Christ in her heart through her actions, habits, loving words, temperament, and marriage. Marlene kept an orderly household and was industrious in managing the family budget. When raising her children, mom was there to dispel a warning, teach a lesson, correct a behavior, and facilitate making amends. Blinking lights on the back deck through high school graduation communicated that it was time to come in from playing, regardless of age.There were consequences for disobedienceandshe disciplined with wisdom and care.As each child married and had families of their own, Mom nurtured our families.
Her most powerful influence was instillingher children's desire at a very young age to learn about the love of our Heavenly Father.Mom's daily walk and reliance on God was her most important shared legacy.She enjoyed friendships and a variety of ministries at St. John's Lutheran Church and First Lutheran Church after they relocated to Alexandria, MN. Marlene was an avid bird watcher and enjoyed sewing, home decorating, reading, flower gardens, crossword puzzles,Twins baseball and of course, her grandchildren!Mar & Bob enjoyed dancing, playing cards, family reunions,fish fries, and league bowling where they collected an impressive array of trophies!The Minnesota landscape of lakes and trees eventually led our parents to relocate their home to Lake Ida in Alexandria, MN. This provided Maran entirely new variety of birds to watch and feed.
Marlene's love of foodtraditions and her excellence in home cooking became a shared legacy and a link between generations.Our favoritefood venues were family reunions hosted by our grandparents.This included "barbeques & baseball"with mom's family and "pot roast and Walt Disney" with dad's family. Yet, these gatherings were shadowed by Mom's scrumptious and plentiful Thanksgiving meal. Mom perpetuated other food traditions such as Swedish Sausage, leftsa andcollachkies. She was a champ at using rhubarb as an ingredient for varied desserts! Simply said, mom's classic recipes are coveted heirlooms!
A bright woman with expertise in office administration, mom was an example of working womanhood. There is a song that extolls the virtues of a modern woman, "I can bring home the bacon; fry it up in a pan".Well, our mom farmed the soil and preserved what was harvested. When the backyard garden wasn't enough, the family farmed a country plot on loan. To supplement these gardens, dad would arrive home with gunnysacks of sweet corn and bushels of fruits &vegetables to preserve. From our Cellar came our meals. All earned by the sweat of mom's brow while enlisting the help of her children. Many playdates were sacrificed in lieu of serving and learning in the home.
To say mom "works like a man" would be an insult. Our fine-featured mother who enjoyed wearing a pretty dress, worked like a woman and then sum. Dad appreciated work with his hands and mom became his companion once they became empty nesters. I know these times became more physically challenging and unpleasant for mom as she aged.Unknowingly, she taught her daughters the absolute truth, "A woman's work in never done".Mom's life clarified that a wife's obedience can lead to blessings if it is fruitful for the home and for God. Marriage should facilitate obedience to the call of God in the lives of both spouses. Mom guided us through her actions. She taught that there are times to conform and times to be an independentthinker. Shewas humblein celebrating her accomplishments. As the busiest mother we will ever know, she gave us a gift of living and loving.
The track of mom's Alzheimer's disease was in some ways, gentle. Her natural tendency to remain strong led her through disease stages with grace. Mom was engaged in life and won a praise-worthy 60+ stuffed animals in activities her first 16 months in her memory-care home. Storytelling of family experiences was a successful focal point of conversations. Mom enjoyed this time. It brought life full circle and her family gained a measure of peace with her fate of dementia. She regularly sported a coy smile when her own candid and witty cracks led to our rowdy laughter! These seared meaningful memories that were healthy for the entire family.
In April 2017, three years after her husband passed, mom relocated to KSto a new care facility. At this time we believed she was in the late-stage of this disease. Her affect and physical health improved in her new home. She warmed-up to conversation, activities and music, especially tunes played on the piano. She regained independence in dining and walked short distances. Mom was able to respond to simple questions with a simple response. She wasrelaxed around family, which reflecteda level of recognition and comforted us all.
A hospital admission was followed with a transfer to Olathe Hospice Home in Fa. As she gradually faded away, God's unrivaled grace rendered positive experiences from the companionshipof family and loving caregivers. Marlene passedon October 11, 2017.She is preceded in death by husband, Robert; parents, Lyle and Loretta; and brother, Leslie. A memorial service was held on Saturday, October 28, 2017 at St. John's Lutheran Church in Shakopee, MN.She is survived by her two sons: Michael (Pam) of Conroe, TX; Greg (Wendy) of Eagan; and two daughters: Terry (Bill) Koch-Menge of Lenexa, KS; Noreen (Dale) Koch-Myer of Lakeville, MN. She was a grandmother to six grandchildren including Jarrett, Benjamin, Russell, Abigail, Landon, and Alex.Her brothers are Larry of Hopkins, MN and Russell (Deb) of Green Valley, AZ.
"In My Father's house are many rooms; if it were not so, I would have told you.
I am going there to prepare a place for you …. That you also may be where I am" – John 14:2-3 NIV
Is there any way that we can know, without doubt, that there is life after death? Will Marlene be awaiting her family's arrival in paradise? The only way to know would be for someone to die, then come back to life and tell us what happened after death. Well such a story can be celebrated! For after Jesus suffered, was crucified and died, Jesus Christ rose from the dead on Easter morning!Halleluiah! This story reveals that sin and death have been defeated forever. Death is not to be feared for Jesus has opened heaven's door where there is room for all those that put their faith and trust in their Lord and Savior!
Marlene's Guestbook
Donate in Memory of Marlene Lois Koch
The Verification Code is imprinted on credit cards to help merchants verify transactions when the actual card is not present, such as Internet purchases or donations. The merchant uses this number as part of the authorization process with the card issuer.
Please use the images below to locate the verification code for your card type.
Visa, Master Card, and Discover: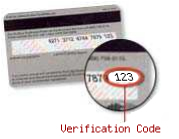 The verification code for Visa, Master Card, and Discover is a 3-digit number printed on the back of your card. It appears after the account number or last 4-digits of your account number, in the signature panel.
American Express: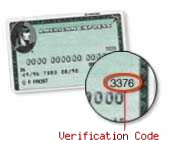 The American Express verification code is a 4-digit number printed on the front of your card. It appears above and to the right of the embossed account number.