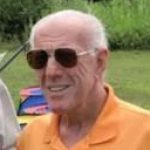 John Daly
July 24, 1939 - March 09, 2018
We are writing this to say goodbye to our beloved husband, father and grandfather John Daly of Venice Florida. John passed away after a long battle with Alzheimer's disease on Friday March 9, 2018, he was 78. John was born on July 24, 1939 in Yonkers, NY. As a family we decided upon cremation and ask that you celebrate his life with a toast of your favorite beverage. If there is something that you would like to send, the family would ask that you make a donation in his honor at Fisher Center for Alzheimer's Research Foundation based in NY. Together we hope to eliminate this horrible disease.
John spent his youth NYC and later attended St. Johns Parochial School where he first met our mom Dorothy Tobin. Later at George Washington High School Mom and Dad's paths crossed again through friends and they first started dating. They were married on February 27, 1960 and several years later gave birth to their first child John. Soon after they decided to move to Stillwater, NJ to raise a family and later gave birth to Kevin followed by Missy.
John could always be found in the garage helping multiple neighbors tinker on their car or motorcycle. His son John later retained this passion for motor vehicles. In High School John played ice hockey and his favorite player on the team was Kevin Woods. This friend was the inspiration for his 2nd son who also plays the sport. In his spare time John was always gardening and his daughter Missy takes on this characteristic. He has mentored so many people and changed many a life for the better.
John and Dorothy came from very humble beginnings and together they always managed to provide for their growing family. Though money was always tight family vacations were always on the agenda with Ocean City, MD being our favorite location to spend time. It was there that John's love of the ocean and fishing began. Our fondest memory is of Dad leaving for an early morning of surf casting to catch dinner only to return a few hours later with the hook through his nose. It was that kind of life where adventure was to be expected. We remember learning how to fish and crab. As a family our love of the ocean was a common bond. It is these memories that we will always cherish.
In 1996 after raising 3 adults John and Dorothy fell in love with Venice, FL and decided to say goodbye to the Northeast. It was there that John was finally able to achieve his dream of owning a boat and many family visits followed on the ocean. He was in his glory as he captained us through the intracoastal waterways and shared stories & laughs. It was in Venice that John carried his love of gardening to perform lawn maintenance and care for the entire community. So many people walking by their home commented on how pristine the lawn was and shortly thereafter another client was signed up.
Dad was always a trend setter. We remember one visit where we were introduced to Crocs. Some of his favorite activities were walking along the beach and collecting shark's teeth which we always welcomed.
During his long career of being a professional driver it was time to move South to spend more time outdoors. He achieved many a safe driver of the year awards at multiple companies and we are all the better drivers because of it. John loved country western music (Johnny Cash and Charlie Pride). He even requested a George Jones song be played for the father daughter dance with Jo.
John is survived by his wife Dorothy of Venice, FL, son John & wife Paula of Fredon, NJ, son Kevin & wife Jo of Marlborough, MA and daughter Missy & Stan of Englewood, FL. Let's not forget all the grand kids Sean, Caitlin, Nick, Michael, Valerie and Richelle. Everyone loved this man and we are all the better because of it.
John was always smiling, laughing, and telling jokes. This positive mood carried on with all that knew him. In the tradition of always giving the shirt off his back. The morning of John's passing Mom & Missy noticed a fellow hospice patient wearing a Monster T-shirt given to him from John. That was the kind of man he was and we are so proud to have known John and carry on his legacy. Mom donated everything to that man including footwear – telling the man you have very big shoes to fill! Indeed.
John's Guestbook
2 entries.
You will be missed forever! Thank you for always making me laugh. Love you!
You will remain in our thoughts everyday! Love you so much
Donate in Memory of John Daly
The Verification Code is imprinted on credit cards to help merchants verify transactions when the actual card is not present, such as Internet purchases or donations. The merchant uses this number as part of the authorization process with the card issuer.
Please use the images below to locate the verification code for your card type.
Visa, Master Card, and Discover: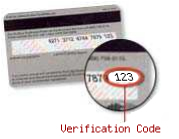 The verification code for Visa, Master Card, and Discover is a 3-digit number printed on the back of your card. It appears after the account number or last 4-digits of your account number, in the signature panel.
American Express: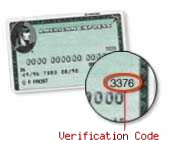 The American Express verification code is a 4-digit number printed on the front of your card. It appears above and to the right of the embossed account number.