MEMORY Wall: Jean D'Alessandro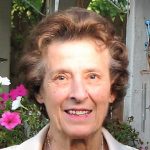 Jean D'Alessandro
November 26, 1932 - October 14, 2018
Jean Louise D'Alessandro (nee Muzzin)
Jean Louise D'Alessandro passed peacefully surrounded by family on October 14, 2018. Jean was born in Detroit on November 26, 1932, grew up in Livonia Michigan, and was in the first graduating class of Bentley High School 1950. Shortly after graduation Jean worked for GM and Detroit Diesel. Jean then found her first love, married Don and had 3 children.
As her entrepreneurial spirit took her through life, she became the epitome of "Service with a Smile" as an owner of successful businesses: dry cleaners, yacht club, motel and gift shop. Jean found love again, and shared her life in Florida with her late husband Dante' as the popular proprietors of The Jeanie's Bottle Liquor Store.
Jeanie loved her family, friends, and loved her dogs. She was a very active member in the Catholic Church and the communities she lived in. She was selfless, always positive, caring for all, and gave kindness without judgment.
She is deeply missed by her family and a lifetime of friends in Michigan and in Florida.
Those who knew her will testify. 2 Corinthians 9:6-7 King James Version (KJV) Whoever sows sparingly will also reap sparingly, and whoever sows bountifully will also reap bountifully. b7 Each must do as already determined, without sadness or compulsion, for God loves a cheerful giver.
Jean is survived by her daughters Ann (Bob) and Bridget (Ken), her son Craig, granddaughter Brianna and a number of loving nieces, nephews and cousins. Jean is predeceased by her husband Dante', brothers Albert and Frederick, her mother Frances and father Fredrico.
A memorial service will be held at Holy Sepulchre Cemetery in Southfield, Michigan on November 1, 2018 at 11:30 am. Should friends desire, the family has established a memorial wall with Fisher Center for Alzheimer's Research Foundation.
God saw she was getting tired
And a cure was not to be.
So He put His arms around her
And whispered, "Come with Me."
With tearful eyes we watched her suffer
And saw her fade away.
Although we loved her dearly,
We could not make her stay.
A golden heart stopped beating,
Hard working hands to rest,
God broke our hearts to prove to us
He only takes the best.
– Author
Jean's Guestbook
3 entries.
We are thinking of you and your family Bridget during this difficult time. May your beautiful mother rest in peace and may your wonderful memories carry you forward. Hugs and prayers
My warmest condolences goes to the D'Alessandro family for the loss of their beautiful mother. May peace and comfort find you with all the wonderful memories you have shared. Bridget, thinking of you and sending love and prayers.
My heart goes out to the D'Alessandro family for the loss of your beautiful and kind mother. I was honored to have met her, I often see her good work's through her daughter Bridget. sincere condolences. - Loretta R
Donate in Memory of Jean D'Alessandro
The Verification Code is imprinted on credit cards to help merchants verify transactions when the actual card is not present, such as Internet purchases or donations. The merchant uses this number as part of the authorization process with the card issuer.
Please use the images below to locate the verification code for your card type.
Visa, Master Card, and Discover: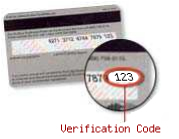 The verification code for Visa, Master Card, and Discover is a 3-digit number printed on the back of your card. It appears after the account number or last 4-digits of your account number, in the signature panel.
American Express: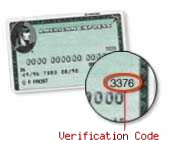 The American Express verification code is a 4-digit number printed on the front of your card. It appears above and to the right of the embossed account number.