MEMORY Wall: Harold Macomber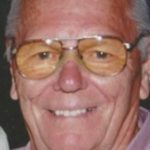 Harold Macomber
July 24, 1930 - November 12, 2018
Harold "Hal" Gardner Macomber Jr, 88, of Lyman, Maine and formerly of Exeter, New Hampshire, passed away Monday, November 12, 2018, at Huntington Common in Kennebunk Maine.
He was the husband of Linda (Ray) Hartson Macomber, whom he loved for over 22 years of marriage.
Born July 24, 1930 in Salem, Massachusetts, he was raised in Marblehead by his late parents, Harold Sr and Vivian (Walker) Macomber.
Hal graduated from The Choate School in Wallingford, CT in 1949, followed by the Wentworth Institute in Boston, graduating in 1951. He married his high school sweetheart, Janet Kenerson, and raised seven children. He started his long "electrical" career with The General Electric Co in Lynn, MA upon graduation. At the same time, Hal established Macomber's Electrical & Appliance Service, opening a small store in Marblehead, MA on the corner of Darling & Washington St. After a few years at GE, he left to build his business, relocated his store to School St and expanded his focus to include residential & commercial service, appliance repairs and eventually kitchen design & installation. In 1977, his son, Rick, took over the business, working together until 1983, when he rejoined his GE colleagues to assist in consolidating the GE factories.
The Marblehead community was an integral part of his early years, where he served as an Auxiliary Policeman and in the Marblehead Light Department. Hal was most proud of his service and contributions while in the position of Electric Light Commissioner, which he held from 1962 to 1980.
After moving to Exeter, New Hampshire, and marrying Linda (Ray) Hartson on October 5, 1996, he became involved within the Town ofExeter. From 1995 to 2001, Hal was on the Planning Board. From 2001to 2010, he was on the Exeter Development Committee. He was also on the Cable Contract Committee in 2005. Hal and Linda spent their spare time traveling, and refinishing furniture to sell at weekend shows through their Mulberry Tree Antiques & Collectibles. Hal renovated their Exeter home, and later, after retirement, and moving to Lyman, Maine, spent many hours updating their new home, and enjoying the Kennebunk Pond water views.
Early in life, Hal was a member of the Navy Reserves, the Coast Guard Reserves, and a 32nd degree Mason, and member of the Masonic Lodge in Salem, Mass.
He is survived by his wife, Linda Hartson Macomber; his children: Hal and Rita Macomber, Rick and Cindy Macomber, Robb Macomber, Candace (Macomber) and Rick Tobin, Kenn Macomber, Ted Macomber, Donald Macomber; his stepsons Stephen Hartson, Kevin Hartson and Kristina Gorman; his children's mother Janet Caswell; numerous grandchildren; great grandchildren; a niece, nephews, cousins, and many
friends.
Harold's Guestbook
Donate in Memory of Harold Macomber
The Verification Code is imprinted on credit cards to help merchants verify transactions when the actual card is not present, such as Internet purchases or donations. The merchant uses this number as part of the authorization process with the card issuer.
Please use the images below to locate the verification code for your card type.
Visa, Master Card, and Discover: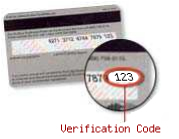 The verification code for Visa, Master Card, and Discover is a 3-digit number printed on the back of your card. It appears after the account number or last 4-digits of your account number, in the signature panel.
American Express: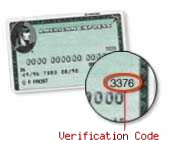 The American Express verification code is a 4-digit number printed on the front of your card. It appears above and to the right of the embossed account number.