MEMORY Wall: Harold George Cameron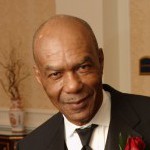 Harold George Cameron
June 01, 1940 - September 20, 2016
Harold George Cameron was born on June 1st, 1940 and passed peacefully at home on September 20th, 2016 at the tender age of 76.  He was one of two children, born to Rudolph Cameron and Doris Manns in Kingston, Jamaica, W.I and had an older sister, Claire Simpson.  He was raised Catholic and attended St. Aloysius Primary Boys school.  At the age of 16, he migrated to England, learned the skilled trade of welding, and lived there for over 10 years.
While in England, he met his future wife, Monica Vines in 1968.  They were married on November 29th, 1969 in the Tottenham area of London.  They have been married for 46 years.
Harold had an incredibly strong work ethic, was well-liked by his co-workers, and watched out for the tradesmen under his supervision.  Until his retirement, he worked as a steamfitter and foreman in New York City and was a member of the Steamfitters Union Local 638.  During this time, he contributed to the construction and/or renovation of several sites including the first World Trade Center, LaGuardia airport, and the Con Edison power plants.
Although an extremely independent and reserved man, Harry, as he was affectionately called by all, had a great sense of humor and enjoyed debating politics and music with friends and loved ones.  In his spare time, he loved to fish, play dominoes, and travel abroad.  He was known for spontaneous road trips to Canada and various cities along the East Coast and always had his camera along to document these adventures.  He passionately watched football (American soccer), yelling at the tv after every great play and was an avid reader, often reading the Sunday Times from cover to cover.
But, most of all, he loved to collect and trade records.  He could spend hours playing music in his basement or scouring unknown record stores for a particular version of a favorite song.  Over the course of his life, he amassed an extensive collection of nearly 10,000 records that includes selections from Michael Jackson and Ben E. King to Bob Marley and Luciano Pavarotti.
Harold's Guestbook
Donate in Memory of Harold George Cameron
The Verification Code is imprinted on credit cards to help merchants verify transactions when the actual card is not present, such as Internet purchases or donations. The merchant uses this number as part of the authorization process with the card issuer.
Please use the images below to locate the verification code for your card type.
Visa, Master Card, and Discover: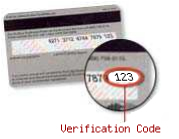 The verification code for Visa, Master Card, and Discover is a 3-digit number printed on the back of your card. It appears after the account number or last 4-digits of your account number, in the signature panel.
American Express: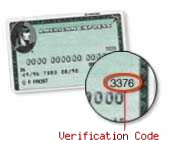 The American Express verification code is a 4-digit number printed on the front of your card. It appears above and to the right of the embossed account number.