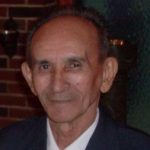 April 26, 1933 - April 26, 2020
On April 26, 1933, the sun rose for Gabriel Torres Sr.
He was born in San Juan Puerto Rico and raised in Santurce; He later moved to New York where he would take on multiple jobs, including manufacturing fiberglass airline parts and working in a hat factory. It was in this factory where he would meet, Nilda Torres; the woman whom he cherished to the ends of the earth and celebrated 60 years of loving marriage with. Their bond strengthened with the blessing of two children, Maritza and Gabriel Jr. God further blessed him with three loving grandchildren, Angel, Christina, and Waverliey, but he was "Grandpa" to many more whom he's helped raise.
Gabriel Torres Sr. was a dedicated employee to Albert Einstein College of Medicine; creating a family lineage of careers in biomedical research. He started in 1972, and always gave his very best to the day he retired in 1997; his reason for retiring, to spend as much time as he could with his grandchildren. Always a hardworking man, who instilled those ethics onto his son. Known to be strong-willed, yet never ceasing to display his kind and loving heart. He demonstrated compassion without bounds; going out of his way to assure no person or animal was ever hungry; always trying to put a smile on every face he met and bring laughter into every situation.
He was a simple man who cherished the monotony in his daily routine; I'm sure he single-handedly kept the newspaper industry alive because the morning ensure wouldn't be perfect without it. The sounds of cowboy westerns and Cardinals' baseball games filled his loving home, while his beloved dog Tiger Lilly lay at his side.
Yet no one could deny his tenacity; An iron-willed man, steadfast in his convictions, and even more ruthless on a pool table; joking his relation to Lucky Luciano.
He exuded boldness and charisma anyone would wish they had an ounce of; having the courage to always speak without fear. Towards the end of his life, he suffered from a terminal disease, Alzheimer's, which robbed him of his sanity in the eyes of many; leaving him misunderstood and unable to advocate for himself. However, forever being the quintessence of a hardworking family man, the love he had for his family never faltered.
The sun set for the last time for Gabriel Torres Sr. on April 26, 2020.
Gabriel's Guestbook