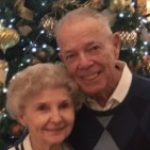 September 27, 1935 - June 18, 2020
Frank adored his wife of 64 years, Joan. He was a loving father to sons Alan and Glenn, a loving grandfather to Brittany, Brent, Trevor, and Brooke and a loving great grandfather to Porter, Harrison, and Hannah.
Frank played trumpet professionally from the early 1950s, starting at Kelly High School, until the early 1970s. He loved jazz, swing, Chet Baker, Frank Sinatra, and Maynard Ferguson.
Frank worked in the men's tuxedo industry from 1955 to 2016. He ran his own family owned tuxedo store from 1970 to 2016 with his wife Joan and son Glenn.
Frank enjoyed family time in the Northwoods of Wisconsin and loved vacationing on the Gulf Coast of southwest Florida.
Frank's Guestbook
1 entry.
Terrific guy, hard to imagine how a motor that big fit into such a trim and compact frame. Frank always had a quick smile and optimistic word for me, and was a fine example of how hard work and a good attitude can carry you far in this life.
He will be missed.