MEMORY Wall: Eleanor A. Burrell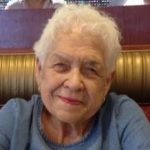 Eleanor A. Burrell
November 23, 1929 - April 18, 2019
Eleanor A. Burrell died Thursday, April 18, 2019 at Abington Hospital – Jefferson Health in Abington. She was eighty-nine years of age. Born in Philadelphia, she was the daughter of the late Frederick and Olga Dietrich. Eleanor had lived at Gloria Dei Farm in Hatboro for the past fifteen years. She had previously been a lifelong resident of the Rhawnhurst section of Philadelphia.
Eleanor was a retired employee of Temple University. She was a member and former president of the Rhawnhurst American Legion Ladies Auxiliary.
She enjoyed singing and had been a member of the Sweet Adelines. Eleanor liked meeting with a sorority of friend from her youth. At Gloria Dei Farms, she volunteered by working in the Coffee Shop and running hot dog and hoagie sales.
Eleanor was the beloved wife of Gordon E. Burrell for twenty-three years before his death in 1977. She was the devoted mother of Susan A. Sawula (Boris) of Litchfield CT and Edward G Burrell (Joan) of Southampton. She was the loving grandmother of Catherine and Christopher Sawula and Lauren Elizabeth Burrell
Eleanor's Guestbook
Donate in Memory of Eleanor A. Burrell
The Verification Code is imprinted on credit cards to help merchants verify transactions when the actual card is not present, such as Internet purchases or donations. The merchant uses this number as part of the authorization process with the card issuer.
Please use the images below to locate the verification code for your card type.
Visa, Master Card, and Discover: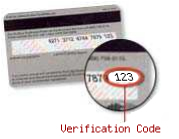 The verification code for Visa, Master Card, and Discover is a 3-digit number printed on the back of your card. It appears after the account number or last 4-digits of your account number, in the signature panel.
American Express: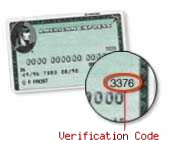 The American Express verification code is a 4-digit number printed on the front of your card. It appears above and to the right of the embossed account number.