MEMORY Wall: Carol Crowl Conway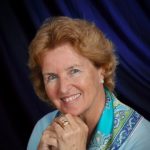 Carol Crowl Conway
- February 24, 2020
The family of Carol Crowl Conway celebrates her nearly 78 years of life through February 24, 2020. Born to Philip and Evelyn Crowl in Chester, PA, Carol grew up in Media, PA and attended Penncrest High School. At Wittenberg University, she enjoyed athletics and leadership in Chi Omega. She raised her family in Mountain Lakes, NJ, and retired in Naples, FL with her husband Brian J. Conway. Carol committed to years of Preschool and Sunday school teaching to advance the lives of children, and volunteerism with organizations such as Girl Scouts, Hospice, Junior League, League of Women Voters, and Meals on Wheels.
Carol is survived by her husband of 27 years, Brian; daughters Debbie Burkland, Julie Waltz (Eric), and Laurie Waller (Sylvan); stepchildren Jane Conway, Andrea Conway (Dan Jones), and Brian Conway (Sonja); grandchildren Ryan, Kevin, Jake, Carolyn, Emerson, Sydney, Lindsey, Josh, Ben, Mia, Harper, and Maeve; sister Patricia Johnson (Tom); and many dear friends including Cindy and Bob Rinaldi, and Baiba and Bob Gowen. She is preceded in death by her parents.
Carol was a special creation, by God, who truly impacted everyone she met. Her husband adored her sweetness, generosity, and companionship. Her daughters hit the mom jackpot valuing her affection, creativity, and advocacy. Her childhood, college, and other friends cherished her kindness, silliness, and loyalty. Her community, Bible study groups, and church families at Community Church, Jacksonville Chapel, and Covenant Church revered her deep commitment and thoughtfulness. Her sister treasured Carol's endless love and compassion and the way she spread it around abundantly. Her extended family admired her vibrant, inclusive, generous personality.
Her friends and family will always remember her artistic handwriting displayed in notes of encouragement, warm and welcoming home, love of a sunset on the lanai with her husband, adoration of all children especially her grandchildren, appreciation of musical theater, generosity with neighbors, sound of her laughter leading to tears with her closest pals, attention to every detail when hosting and entertaining, big station wagons and minivans to include anyone who needed a ride, cheerful messages and reminders left on the floor so loved ones wouldn't miss them, and water ballet moves most recently shared with her aqua aerobics buddies at Lely Resort.
Her devoted fan club will think of her when they go to the library, see daisies, eat Girl Scout cookies, sip a pina colada, care for a friend, cut a sandwich on the diagonal, wear teal green or periwinkle blue, pick up a seashell or find blue sea glass, use American Sign Language to communicate I Love You, and sing Sweet Caroline. Carol truly was a song, one that will always be in the hearts of those lucky to have loved her.
Donations to Fisher Center for Alzheimer's Research Foundation in Carol's name will focus on Amyloid research.
Carol's Guestbook
Donate in Memory of Carol Crowl Conway
The Verification Code is imprinted on credit cards to help merchants verify transactions when the actual card is not present, such as Internet purchases or donations. The merchant uses this number as part of the authorization process with the card issuer.
Please use the images below to locate the verification code for your card type.
Visa, Master Card, and Discover: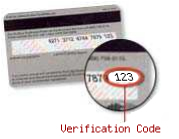 The verification code for Visa, Master Card, and Discover is a 3-digit number printed on the back of your card. It appears after the account number or last 4-digits of your account number, in the signature panel.
American Express: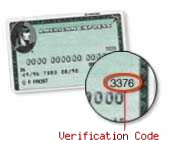 The American Express verification code is a 4-digit number printed on the front of your card. It appears above and to the right of the embossed account number.