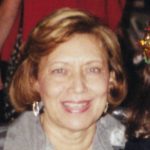 September 01, 1942 - February 23, 2020
Angela Lucina Rojas de Oliveros, a wonderful mother and devoted wife, and unforgettable ABUELA consentidora, born and raised in Valencia, Venezuela, passed away peacefully on February 23rd 2020 surrounded by her loving family. As a strong woman, a guerrera, a woman of strong faith, she was a force to reckon throughout all her life. Her love for her family was undoubtedly strong, fierce and she will never be forgotten by those who she touched.
Born September 1st, 1942 to Saturno Rojas and Lucina Marin de Rojas, Angela was one of ten siblings- Néstor, Saturno, Manola, Guillermo, Alejandro, Beatriz, Jesús, Auxiliadora and Belkys.
In March 1964 she married José Rafael Oliveros Silva and had four children: Angela Maria, José Rafael "Cheo," Lucina Maria and José Manuel.
Her life was filled with vibrancy. Angela was an avid entrepreneur who used her craft and creativity to create beautiful articles of clothing, including flamenco dresses, wedding dresses, dance attire, and so much more. Angela was a mentor who empowered the women she worked with. She kept a lighthearted manner by which she tackled tough challenges and overcame them with grace. Her enthusiasm was contagious and we all dabbed into some of her stitching, embroidery, and any/all creative activity she was passionate about. While her natural grace and elegance was innate to her, it was her solidarity for the vulnerable and less fortunate that made her unique and most driven to take action.
She is survived by her husband José Rafael and children Angela, Cheo, Lucy and José Manuel, and by her six grandchildren: Shaadé, Sébastien, Anette, Anya, Isabella and Joaquin, her siblings and many nieces and nephews.
Angela Lucina Rojas de Oliveros, una madre maravillosa y esposa devota, e inolvidable ABUELA consentidora , nacida y criada en Valencia, Venezuela, falleció pacíficamente el 23 de Febrero 2020 rodeada de su amada familia. Como mujer fuerte, guerrera, mujer de mucha fe, fue de una fortaleza que tuvo en cuenta durante toda su vida. Su amor por su familia fue indudablemente fuerte, feroz y nunca será olvidada por aquellos a quienes tocó.
Nacida el 1 de Septiembre 1942, sus padres Saturno Rojas y Lucina Marín de Rojas, Angela fue una de diez hermanos: Néstor, Saturno, Manola, Guillermo, Alejandro, Beatriz, Jesús, Auxiliadora y Belkis.
En Marzo de 1964 se casó con José Rafael Oliveros Silva y tuvo cuatro hijos: Angela María, José Rafael "Cheo", Lucina María y José Manuel.
Su vida estaba llena de vitalidad. Angela era una ávida emprendedora que utilizó su oficio y creatividad para crear hermosas prendas de vestir, incluidos trajes de flamenco, vestidos de novia, trajes de baile y mucho más. Angela era una mentora que empoderaba a las mujeres con las que trabajaba a valerse por si mismas. Mantuvo una actitud alegre mediante la cual enfrentó desafíos difíciles y los superó con gracia. Su entusiasmo era contagioso y todos nos dedicamos a algunas de sus,costuras, bordados y cualquier actividad creativa que le apasionara. Si bien su gracia y elegancia naturales eran innatas en ella, fue su solidaridad con los vulnerables y los menos afortunados lo que la hizo única y de manos tomadas a la accion.
Le sobreviven su esposo José Rafael y sus hijos Ángela, Cheo, Lucy y José Manuel, y sus seis nietos: Shaadé, Sébastien, Anette, Anya, Isabella y Joaquín, sus hermanos y muchas sobrinas y sobrinos.
Angela's Guestbook