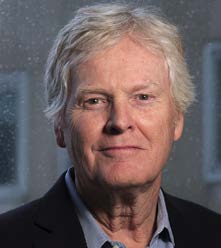 Richard and Jeanne Fisher Professor
Vice President for Academic Affairs
Michael Young shared the 2017 Nobel Prize in Physiology or Medicine for his discoveries about the cellular and molecular machinery of biological clocks, the internal mechanisms that control the timing of daily activities in living organisms. In studies of the fruit fly Drosophila, a key model organism for genetic research, he has identified the majority of the genes that work together to control the timing of the fly's sleep/wake cycle. Human counterparts for these fly clock genes have also been found.
Dr. Young's investigations have broad implications for the understanding of human health and disease. For example, the body's circadian (approximately 24-hour) clocks regulate much more than the sleep schedule. Also affected are many genes involved in metabolism, immunity, temperature control, hormone regulation, blood pressure, pain, learning, and memory. Circadian clocks are also relevant to poorly understood human behavior disorders, such as depression.
In recent years, the Young laboratory has expanded its focus to include vertebrate animal models, providing deeper insights into how clock genes influence multiple biological systems. They have also launched new studies of sleep and circadian rhythms in humans at the genetic and molecular levels.
Dr. Young earned both B.A. and Ph.D. degrees from the University of Texas. After conducting postdoctoral research at Stanford University, he joined The Rockefeller University in 1978 as an assistant professor. He was promoted to associate professor in 1984 and professor in 1988. Since 2004, Dr. Young has served as vice president for academic affairs, with responsibility for mentoring tenure-track faculty and advising the administration on scientific planning and operations. That same year, he was also named the first Richard and Jeanne Fisher Professor at The Rockefeller University.
A member of the National Academy of Sciences and the American Philosophical Society, Dr. Young has received numerous other honors in addition to the Nobel Prize, including the Canada Gairdner International Award, the Massry Prize, the Gruber Prize in Neuroscience, the Wiley Prize in Biomedical Science, the Shaw Prize in Life Science and Medicine, and Columbia University's Louisa Gross Horwitz Prize.