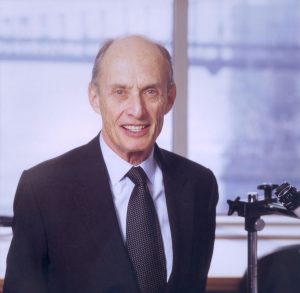 Paul Greengard,
Director of the Fisher Center for Alzheimer's Research
Dr. Paul Greengard was awarded the Nobel Prize in Physiology or Medicine in 2000 for his pioneering work in delineating how neurons communicate with one another in the brain. During a half-century of research, he has been lauded for his singular contribution to our understanding of the complex signaling process that occur within the 100 billion or more nerve cells that make the human brain.
Dr. Greengard is the Vincent Astor Professor at The Rockefeller University and Director of the Fisher Center laboratory. He is also a member of the National Academy of Sciences and has received more than 50 awards and honors throughout his career. He has authored over 1000 scientific publications.